It only takes a box of Crayons and a child's imagination to create a fridge-worthy family portrait. Dad wears glasses. Gramma has white hair. The dog is brown. Some things match up perfectly. But that seemingly endless box of colors does give some youngsters pause.
"I could always color my dad with peach. I could always color my mom dark brown," said Acacia Wright in a story she wrote for National PTA's Reflections Awards program. "But there is still no Crayon color of me and my sister."
According to the Pew Research Center in Washington, DC, about 10 percent of American children are multiracial. That's compared to just one percent in 1970. And that 10 percent is growing fast. The number of mixed race Americans is on the rise – meaning those peach and brown Crayons aren't cutting it for thousands of creative kids.
As Acacia wrote in her story, "My Color in the Crayon Box", her mother had a perfect response when asked why there wasn't a Crayon match for her beautiful and unique skin tone.
"My mom tells me that I'm a very special color," Acacia wrote. "I am the color of love."
Good job, mom! And Our Children Magazine wants to help Acacia's mom – and other parents – with a follow up to that awesome answer. LET'S CREATE A "COLOR OF LOVE" CRAYON!
With this simple craft, families will not only spark discussions about ethnicity, cultural backgrounds and diversity – but they'll also have fun!
Here's what you need
Crayons

All those broken tidbits are perfect.

Silicone Molds

We're using heart molds, but you can use muffin tins or other shaped pans.

Oven
Craft Stick (for stirring)
Let's make Acacia's "Color of Love" Crayons
Preheat your oven to 170 degrees.
Find a peach Crayon and a brown Crayon.
Remove the paper and break the Crayons into small bits.
Place Crayon bits into your molds. Don't overfill, but keep in mind the Crayons will melt down.
Place the molds in the oven for 15 minutes or until all the wax has melted.
Carefully remove the mold from the oven.
Using a craft stick, gently stir each mold until the colors are combined.
Let the molds cool for 45 minutes to an hour.
Once cool, your Crayons will pop right out of their molds! You can use them immediately to create a beautiful self or family portrait!
Note: You can use this same process to create any kind or color Crayon you want!
We know your "Color of Love" may look different than Acacia's. You might use apricot. You might use orange. You might use black. Mix and match until you find the perfect shade. And remember, if you didn't quite nail the right shade on your first try, melt your creation again and add whatever you need to create your "Color of Love".
Acacia said it best in her story. "The color of love is any color I want to be. I like being the color of love."
We want to know what your "Color of Love" looks like. If you make this craft or if you have a family portrait you'd like to share, tweet us using #MyColorOfLove or email us at OurChildrenMagazine@pta.org.
About Acacia
Acacia Wright is in the second grade and attends Louise Archer Elementary School in Vienna, Virginia. She won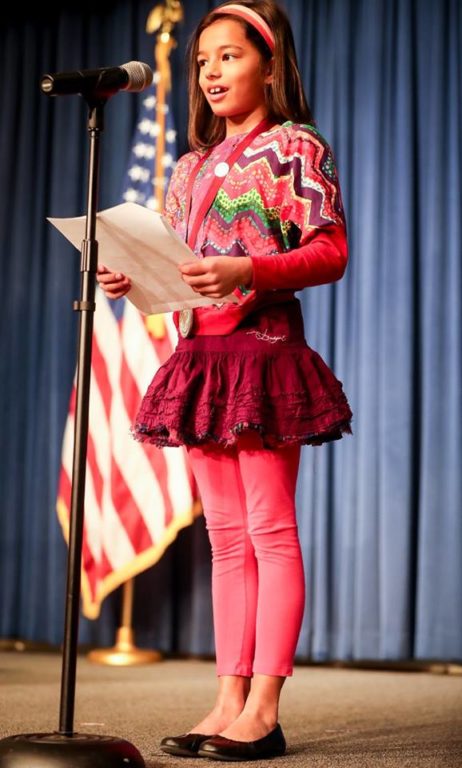 an Award of Excellence in the 2017 National PTA Reflections Awards for her story, "My Color in the Crayon Box".
Acacia's mother is from South Africa and of Indian descent. Her father is from the other side of the planet…literally. He's from Anchorage, Alaska. Acacia has an older sister named Kiara.
You can watch Acacia read her award-winning story at the Reflections Showcase, which took place at the Department of Education in Washington D.C., by visiting National PTA's Facebook page.
https://www.facebook.com/ParentTeacherAssociation/videos/10155473437992029/
Scott Meeks is the Communications Manager for National PTA and online contributor for Our Children Magazine. He's also a children's book author and a self-described craftaholic.