If you asked poet and New York Times bestselling author Kwame Alexander how he developed a love of reading, he would laugh and tell you a story about a 12-year-old boy who hated books.
This is surprising, considering that the charismatic and innovative author of 25 books—Rebound, the prequel to Alexander's Newbery Medalwinning novel The Crossover—has built his writing career on helping middle schoolers bridge the gap from children's books to reading more mature literature.
When you're in his presence, it is clear that Alexander's upbringing and life experiences have shaped his writing and continues to guide his path. His parents were educators. His mother loved poetry and storytelling and his father was a book publisher, writer and professor.
"Reading was like breathing in our house. Books were like food."
Their influence is clear in his writing approach, which uses fun, relatable and rhythmic poetic verses to get kids to develop or retain their love of reading and appreciate more complex literature context.
His mother—a folklorist and English teacher, who told vividstories at bedtime and during meals—would read to him and his siblings. Books were everywhere in their home and lined the walls of his bedroom. He loved the books she read by Ernest Gregg, Langston Hughes and Nikki Giovanni.
And his father—an academic—would make his 12-year-old son read dissertations and heavy philosophical books like Pedagogy of the Oppressed.
"What 12-year-old wants to read that? I wanted to be playing basketball," said Alexander. "I hated it. So, I hated books by the time I was in middle school." His dislike of books was more about being forced to read specific books, instead of choosing his own.
Fortunately, fate intervened. One day, while cleaning his family's garage, Alexander found Muhammad Ali's book, The Greatest, and something clicked. He devoured the 400-page autobiography in one night and became fascinated with reading again, finding something new and interesting every time he went into that garage piled high with books.
After that experience, he decided to read about what interested him,which was mostly sports.
Alexander says this is what brought him back to a love of literature. And it helped him learn how to express himself as he grew into adulthood.
"I was nerdy and shy when it came to girls, so I began to write poems for them. All of a sudden I was the cool guy," said Alexander, who courted his girlfriend and future wife, Stephanie, by writing her a poem a day for a year.
Though he loved reading books and had a way with words, he hadn't thought about writing as a career. Alexander was a talented teen tennis star and considered a professional career. He also thought about being a pediatrician, initially majoring in bio-chemistry/pre-med at Virginia Tech.
But when he took classes with renowned poet Nikki Giovanni— whose work he remembered his mother reciting at the breakfast table as a child—he changed his major to English and never looked back, filled with a new desire to be a professional poet. Today, Giovanni is his literary mentor.
At the beginning of his career as a professional writer, Alexander—father of two daughters— took technical writing jobs and did some proposal writing for government contractors. He continued to focus on his poetry, writing whenever he could find time—on the bus to work or during lunch.
"Being a father changed my sensibilities," he said. "I wanted to connect with my children. I was reading up to four books a night with my daughter and became immersed in children's literature" again.
His first children's book, Acoustic Rooster and His Barnyard Band, features a rooster who starts a jazz band with Duck Ellington and Mules Davis. The book was inspired by his younger daughter, who, as a baby, would stop crying whenever Alexander would play an Ella Fitzgerald song.
"Words have been the way that I've learned how to move in this world," said Alexander.
When his older daughter, as a teen, told him she was ready to date, he wrote a book of love poems for teenagers including the poem, "10 Reasons Why Fathers Cry at Night."
Life experiences continued to inspire his writing every day.
In the late 1990s, while developing a new book, Alexander reflected on his family, the storytelling and music that influenced his early life and how, during his pre-teen years, he had lost his love of reading as so many middle grade boys do.
He decided to write a book that would push the envelope on the definition of literature for middle school-aged children.
The Crossover is the story of young twin brothers who are junior high school basketball stars, trying to deal with all the things that come with growing up—homework, first crushes, jealousy, friendship, sibling rivalry, family issues and sports.
This story was different than other middle school fiction books on the shelves at the time in one crucial way—Alexander had written the novel in verse. He used this approach because he thought poetry would match the energy, moment and pulse of a basketball game.
"It's learning how to be the greatest and all the things that were important to me when I was 12," said Alexander, who writes with middle schoolers in mind. "It's a book I would have wanted to read when I was growing up."
At the time, there were few novels written in verse at all, let alone for middle schoolers. The book was rejected 22 times because publishers did not see a successful market for the genre. They didn't believe boys would read poetry or that girls would read a book about sports.
Eventually, though, Alexander persevered. And The Crossover was not just a mass market success, it was also a critical one—Alexander won the 2015 John Newbery Medal for the most distinguished contribution to American Literature for Children, marking a pivotal turning point in his career.
Today, Alexander visits schools around the country to get kids as excited about reading and writing as he was while growing up and help them to retain their love of reading through the middle school years. He believes that poetry is the bridge to get reluctant readers to become eager participants in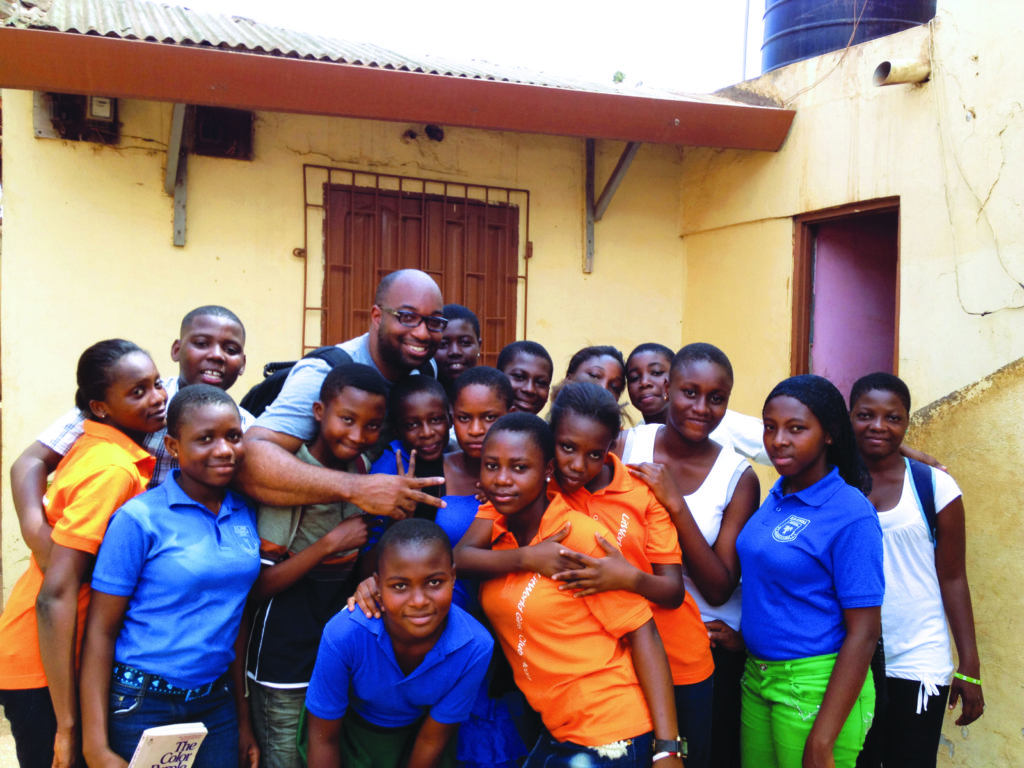 the reading experience.
"I want kids to be able to know that in books, language and literature can become something that is life-giving and lifesaving," said Alexander, who serves as the 2018 NEA Read Across America Ambassador.
His job, he says, is to make books cool. To do that, he often uses the same captivating techniques his mother used when she would tell stories to Alexander when he was a child.
He believes poetry and literature can build confidence in children, which in turn can help them become better adults. He encourages parents to read to their children and let their children read back to them.
He also recommends that parents give their children books that are going to help develop their imagination and inspire them to make a better world. He encourages parents to let children choose their own adventures based on their interests and to take them to meet authors and to stage performances of books.
"Books are windows and mirrors. They teach us about who we are and they teach us how to be empathetic, to understand people who we aren't, to understand our neighbors better."
Alexander believes that poetry can create powerful change, and he uses it to inspire and empower young people across the country and the world.
His Leap for Ghana initiative establishes student scholarship opportunities, provides literacy training for teachers and facilitates girls' empowerment workshops and career development projects in conjunction with Ashesi University and the U.S. Embassy in Ghana, as well as interest groups a little closer to home, like the students and faculty at Riverside High School in Loudoun County, Va., and other schools across the United States.
During a recent visit to Ghana, he coordinated a donation of 5,000 books to a local village in the country and led a group that trained teachers to teach writing through poetry workshops and a summer literacy camp. Alexander's group also raised money to provide scholarships for girls to go to high school, which costs upwards of $1,000 per person.
"I love being able to share my ideas and my thoughts and my feelings about the world and my place in it with young people," Alexander said.
His place in the world, it seems, is everywhere books are and could be. In 2019, Alexander will begin publishing books under his own imprint, Versify, at Houghton Mifflin Harcourt Books for Young Readers. He hopes to find books that push the literary envelope like The Crossover.
Alexander is also the host and producer of the literary variety talk show, Bookish, which airs on Facebook Watch. He infuses music, literature and humor—performing his poetry, sharing info on the books he's reading and answering questions from his fans. The show's first season featured authors Jeff Kinney and Judy Blume, and actress/singer Jordin Sparks.
"I have the best job," said Alexander. "Spreading the love of books. Making books cool. Making kids feel like they can change the world, one word at a time."
Lottie Joiner is a Washington, DC-based freelance writer.The Our Children editorial staff contributed to this article.