These Valentine's Day hearts are made of recycled paper. They're one-of-a-kind and when planted in the spring, they grow flowers! How cool is that?! You only need water, paper, seeds and some heart-shaped molds to bring this project to life.
Supplies
Lots of ripped-up newspaper or junk mail
Warm water
Wildflower seeds
Heart-shaped mini aluminum tins or silicone molds
2 large bowls
Prep Your Paper
Tear the newspaper or junk mail into very tiny pieces. This is the perfect task for tiny hands! Be sure to throw in a few small pieces of red or pink paper.
Put the paper pieces into a bowl and cover with warm water. Let everything soak for an hour or two. It's best if you can let it soak overnight.
Drain the water and then go in for a second round of ripping! The kids really love this part. The paper should be mushy at this point and easily torn into even tinier pieces. Tell the kids that you're looking for an oatmeal consistency.
Clump the paper together in the palm of your hands and squeeze out the most of the water.
Put your squeezed-out pulp into a clean bowl and sprinkle in some wildflower seeds. Combine well.
Press small handfuls of the mixture into your heart-shaped molds. If you don't have molds then just press the mixture out flat and you can cut out hearts once everything is dry. A thin layer works best for this method.
If your mixture still looks a little damp just blot it with a paper towel. You want it to be mostly dry, but damp enough so that the heart holds together.
Let the hearts air dry for a day or two. It's best to let them dry in a warm place.
When the hearts are completely dry, pop them out of their molds.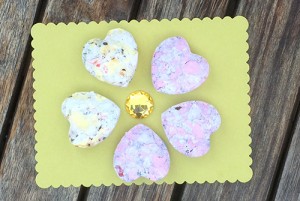 Christina Krost recently made these seed hearts with her three kids for Valentine's Day. The kids are giving them to friends at school.
Wrap these hearts in some wax paper and give them away at school For Valentine's Day. Remember to tell your friends to plant them in the spring so they can watch the wildflowers grow! You can also use three or four of these hearts together to make a flower!
Re-using junk mail or newspaper for this project is an awesome way to help the environment. And growing wildflowers helps provide food for birds and butterflies.
To learn more about the environment, check out PBSKids.org/EekoWorld
To learn more about gardening, go to KidsGardening.org
To get crafty, you'll love: CraftingAGreenWorld.com
Happy Valentine's Day!
For more family-friendly craft ideas, check out our Fun Family Crafts and Projects Board on Pinterest.
Scott Meeks is the communications manager at National PTA.