I've never met Texas Supreme Court Justice Don Willett. Truthfully, I've not met any of our current Supreme Court Justices. But I've thought a lot about them over the last few months since their ruling that the funding system for Texas public schools is constitutional. I was surprised and I don't think I'm alone in that.
The Texas Constitution states in Article 7, Section 1 "it shall be the duty of the Legislature of the State to establish and make suitable provision for the support and maintenance of an efficient system of public free schools."
Although they ruled that Texas' school funding system constitutional, the Justices seemed to only have negative things to say.
For example, Justice Willett stated, "The system, while undeniably imperfect, with immense room for improvement, is constitutional," and "Texas' 5 million students deserve transformational, top-to-bottom reforms that amount to more than Band-Aid on top of Band-Aid."
Justice Guzman weighed in with, "There is much work to be done to improve our public school system, particularly for the population that represents the majority of the student base—economically disadvantaged students", and "While the constitution requires the system to be merely good enough, that does not mean that our system is good, or that it will continue to be enough."
I was appalled.
As parents, we cannot be proud of these descriptions of our public schools.
Our schools do not have enough funds to give our children the education they deserve. How can a state as proud as Texas tolerate this?
To add insult to injury, I recently learned that not all of the local property taxes collected and sent to the state to be used to fund public schools are actually spent on public schools. According to the Texas Legislative Budget Board, over the last 10 years approximately $14 billion dollars has been collected through local property taxes, of which only $11.8 billion have been used to pay schools for increases in their student enrollment. The rest, instead of helping to fix the problems our Supreme Court Justices described, went into the state's coffers.
As a PTA leader, I've been asking people in my community and those that I meet in meetings around the state if they are aware that not all the money they pay in local property taxes goes to our schools.
I haven't met a single person who wasn't surprised and, frankly, angry.
I've been involved in PTA since my children started school. As they grew, I continued to grow as a PTA volunteer too. This year I became the President of Texas PTA, the largest member-based child advocacy association in Texas. I spend a great deal of time advocating for Texas children and for our public schools. I travel the state, visiting schools and meeting with parents, teachers, principals and superintendents.
This summer, Texas PTA invited groups who are interested in public schools to come together to discuss how to improve our school funding system. I know that many schools face difficult challenges in trying to deliver the education our children deserve and that there are large disparities between schools in terms of funding and quality.
I know that money won't solve all of our schools' problems, but we must begin with a funding level that is adequate to meet the needs of all our students and is distributed equitably across schools.
When Texas PTA members advocate this year in our state Capitol and around the state, we will be asking our legislators "What will you do?"
We will ask if they will commit to spending all property tax collections on our public schools or if they will just look the other way and let this diversion continue.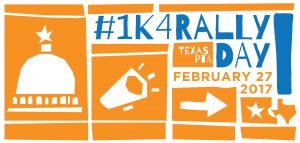 As we begin our next phase of advocacy at the state and local level, we will urge our elected officials to take to heart the statements of our Supreme Court Justices and work with Texas PTA and many other organizations to pass legislation to rebuild our public school system so that it is one of which we can all be proud.
Texas PTA vows to work with legislators and other advocates to create a system that is fair and that offers all students the education they deserve. We must come together—parents, school leaders, policy-makers—to craft a solution that affords every student the opportunity to achieve their fullest potential through education.
We can do it and we must.
Lisa Holbrook is the Texas PTA President, serving over 5.3 million children in the public school system.