Earth Day (April 22) is the perfect time to celebrate our planet and teach your kids to be more eco-friendly by showing them how to recycle, conserve water and be energy-efficient. You can also try these activities to help talk about the importance of taking care of our environment—and have fun! 
Scavenger Hunt
For your family walk or hike, make a list of items your kids can search for outside. They can either gather the items in a bucket or bag, or simply check it off the list when they find them. This is a great way to talk about taking care of the planet, while having some fun.
Here are some sample scavenger hunt items: Leaf, stick, rocks, ant, spider web, feather, tree bark, flower, litter, grass, bird feather. (Source: Mom on the Side)
Planet Earth Worksheet
Use this free template to spend some time to talk about our amazing planet. Kids can color the picture of the Earth and then cut the printout open into fourths on the dotted lines. This will create the flaps to lift once you glue it to the worksheet. Under each flap, have younger kids draw a picture about something that is special about our planet. Older kids can write a pledge on how they will protect the Earth in their daily lives. (Source: Primary Theme Park)
Point and Shoot: Nature Photography
Grab your camera or phone and do a photoshoot. Your subject? The Earth! Let your child take pictures about the interesting and beautiful things they see outside. You can review them and talk about how important it is to be mindful of how our daily actions affect nature. Print your favorite pics and frame them or post them on your refrigerator!
Recycled Robot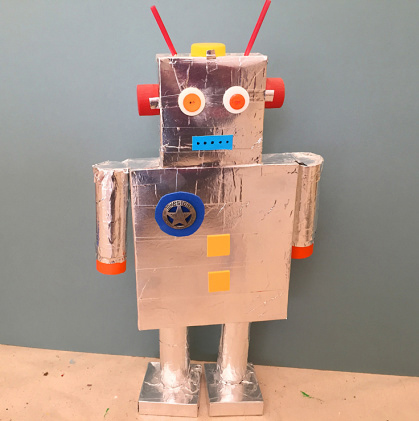 Made from recycled materials, this robot is fun to make, play with and display! Just find some boxes and other objects around the house and create your robotic masterpiece with your kids. You can discuss how various items can be reused, instead of using once and throwing them away.
Materials
Boxes of various sizes
Toilet paper/paper towel tubes
Buttons, beads, dry cereal, straws, etc. for face
Glue
Foil
Scissors
Tape
Directions
Select boxes for the body, head and feet. You can also use the paper tubes for arms and legs. Tip: Jello/pudding mix boxes work well for feet.
Cover all of the pieces with foil and attach them with tape to form a body.
Attach eyes, nose and mouth with glue and let dry.
Make any creative enhancements like antennas or buttons.
(Source: Ziggity Zoom)
Make a Sweet Soil Brownie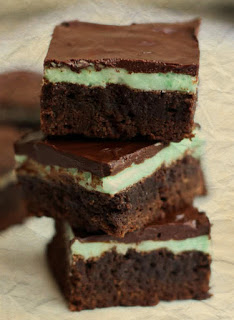 Try these delicious brownies, with the green center and talk about the layers of the Earth's soil.
Ingredients
For Brownies
3 cups sugar
3 cups flour
1 cup DARK cocoa
1 1/2 tsp salt
6 eggs
1 1/2 cups oil
3/4 cup milk
For Mint Layer
1/2 cup unsalted butter, softened
4 cups confectioners' sugar
1 1/2 tsp peppermint extract
2 Tbsp milk
Dash of salt
Natural green coloring
For Chocolate Glaze
2 cups chopped dark chocolate
6 Tbsp unsalted butter
Directions
Brownies
Combine all ingredients in a large bowl and beat or whisk till smooth.nPour batter into well greased 9 x 13 pan. Bake at 350° for about 20-25 minutes. Cool completely.
Mint Layer
Beat till smooth and spread evenly over cooled brownies. Chill in the refrigerator while you make the chocolate glaze layer. Tip: If you can find mint frosting, you can save time.
Chocolate Glaze Layer
Melt butter and chocolate in a saucepan over a saucepan filled with water on a simmer until combined. Let cool for five minutes. Spread over the mint layer, smoothing as you go. Return to refrigerate for at least an hour.
Allow to come to room temperature before cutting into squares. (Source: Dying for Chocolate)
These activities are a few of several ways you and your family can celebrate Earth Day.
Kisha DeSandies Lester is the senior editorial & digital manager at National PTA.