October is National Cybersecurity Awareness Month—a collaborative effort to raise awareness and provide education on ways to be safer online at work, at home, at school and all the places in between.
Kids aged eight to 12 spend an average of six hours a day online, making them vulnerable to issues like identity theft, cyberbullying and cyber predators. That exposure is only expected to increase. By next year, there will be over 31 billion "Internet of Things" devices in homes worldwide, meaning even more toys that connect to Wi-Fi in your house, more multi-player games your kids play with internet strangers, increased use of tablets at school and phones on the bus, and even more serious security and safety threats.
How to Keep Your Kids Safe Online
The best way to fight cybercriminals is through education—and that can start at any age. As parents, caregivers, teachers and school administrators, we know to teach our children how to safely cross a road and who to call in case of an emergency. We must also teach our kids proactive digital privacy and online safety behavior and give them the tools to own their own cyber safety.
As part of National Cybersecurity Awareness Month, Symantec recently hosted a webinar on ways to teach cyber safety with four industry experts: Paige Hanson, Chief of Identity Education at Symantec, Kelvin Coleman, Executive Director of the National Cyber Security Alliance, Larry Magid, CEO of ConnectSafely.org, and Collin Robinson, National PTA Board Member and PTA Connected Ambassador.
You can watch the full webinar here or read below for one key cyber safety tip from each of our webinar panelists:
Paige
"I've spent over a decade working to prevent identity theft, and if I've learned one thing, it's that protecting personal details is the first step in reducing risk. Teach your kids to stay safe on social media and to "Share with Care." First, help your children disable geotagging, as no one should know the address of where they grab a snack after school. Second, teach them to stop oversharing. That photo of their new license should never be on the internet."
Kelvin
"After two decades of experience in high-stakes cybersecurity posts at the White House, U.S. Department of Homeland Security and the private sector, I have seen firsthand how important it is to educate young people on staying safe online. One key practice is to make sure your child understands the devices and applications they use every day. Check app permissions together, delete apps they no longer use, and continuously update their privacy settings to make sure they're saying 'no' to privilege requests that don't make sense."
Larry
"A strong password is the first line of defense against intruders and imposters. Make sure your kids know to never give their passwords to friends, even if they're really good friends. Experts now suggest using a 'passphrase,' which is a very long password, or a password manager. Kids tend to have a lot of apps and shouldn't use the same password for all of them. Many apps now offer multi-factor authentication­, and they should consider enabling it—a few extra seconds can greatly increase your login protection and security."
Collin
"As an active PTA parent leader, dad of two school-aged children, and web developer, I work a lot on educating and engaging families in digital wellness and access. One simple tip is being aware that public Wi-Fi is not secure. If your kids are like mine, they're constantly jumping on public Wi-Fi wherever they go—at the coffee shop, library, grocery store, etc. To keep our kids safe, we set our children's devices to ask permission before connecting to a Wi-Fi network and ask them to use a mobile hotspot or VPN when available."
Get the Conversation Started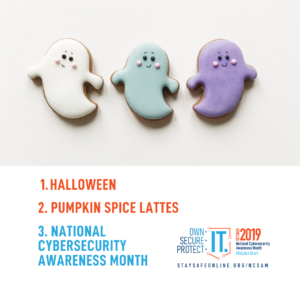 Parenting in the digital age is complex, so Symantec has partnered with National PTA to help children act safely, responsibly and thoughtfully online.
If you're looking for ways to get the cybersecurity conversation started at home, consider using The Smart Talk. This interactive online tool encourages families to have proactive, open and ongoing conversations around digital safety. The Smart Talk brings parents and kids together and provides guided questions concerning digital safety and privacy, screen time, social media and respect, using and downloading apps, and texting and calling. Families answer the questions together, customizing their own media contract and putting their kids' technology ground rules in writing.
Symantec is also a founding sponsor of National PTA's PTA Connected initiative, which helps families take charge of their digital life. Read more about PTA Connected and our efforts to educate parents and empower them to help their children make smarter, safer choices online.
Tess Hetzel is the corporate responsibility manager for Symantec. This October, get involved in National Cybersecurity Awareness Month by learning more and using #BeCyberSmart and #CyberAware on social media. To learn more about Symantec's commitment to cyber safety, start with these tips for protecting your social media privacy.