A lifelong love of reading begins at home with your family. As Emilie Buchwald once said, "Children are made readers on the laps of their parents." Research shows that when families read together, learning happens and memories are made that last a lifetime. So get inspired! Watch these stories about the magic that unfolds when families read together.
Here are four ways to bring your family reading experiences to life: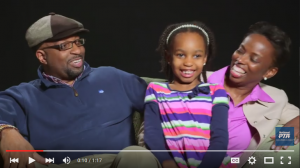 1. Show how excited you are about reading to your kids
They say that your child learns by imitating you (at least most of the time), but as a parent, you are your child's first teacher and role model. Even one-year-olds can mimic your every move and behavior! From listening and watching you read a book aloud, a child can learn new words, hear different stories and scenarios and try to do the same, too! Let them know that you enjoy reading and show your kids how fun reading can be. Watch award-winning children's author Kwame Alexander join his wife and daughter to discuss why reading together as a family is important by visiting our YouTube page.
2. Read together in your favorite places
Where's your favorite place to read? No really, where is your favorite place? Sometimes having a designated spot helps you to get lost in the world of your book and makes the story even more enjoyable! For example, you can bring your stories to life by reading "The Lorax" under a tree, or "Where the Wild Things Are" by your living room fireplace. Wherever that place may be, the joy of reading can take you to so many places. And we mean that literally! Watch Juliet sit down with her children, Kakii and Kioko, to talk about learning how to read and their favorite place to read at home by visiting our YouTube page.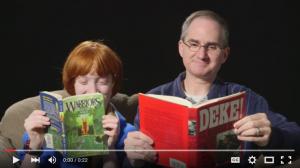 3. Pick a book that you and your family can learn from together
There are many different genres that will appeal to every type of reader, ranging from action and mystery to science fiction and drama. Reading together with your family is a great opportunity to talk about the plot of story, discuss certain scenarios that may be of interest or expose new vocabulary. For instance, parents who know English as a second language may find reading and discussing the book as a family to be valuable and beneficial. Reading can enrich our minds—for both children and parents. Watch Daniel and his dad Paul talk about the vast possibilities that are provided when picking up a great book to read by visiting our YouTube page.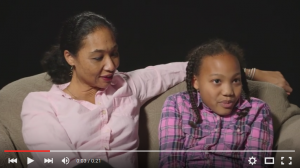 4. Create a family tradition that involves reading
Family traditions are passed down through many generations and keep family culture and memories alive. Like many traditions, reading together is celebrated as a time of togetherness and unity. These times of togetherness can also be a great way to talk about your family's history. Do you have a book that was passed down to you as a child? Or a reading ritual that you do every year with the family? Watch Frances and her daughter Natalie talk about a tradition that has been passed down in their family involving reading on a particular day each year by visiting our YouTube page.
How do you create memorable family reading experiences? Share your stories with us on Twitter using #FamiliesRead or chat about it in the comments below.
These videos were a part of National PTA's 2015 Summer Family Reading Challenge, Powered by Kindle. Watch the full video series on YouTube. To learn more about this year's program, visit PTA.org/Reading.