Sometimes, we forget that school isn't easy. For a student it can be extremely overwhelming. Think about it. They wake up early in the morning and spend their entire day learning new concepts and ideas that they might not be in the mindset to receive—from teachers they might not get along with, surrounded by peers who may be bullies. Add to that the external factors—home life, community and fitting in with friends—affecting their mood and focus.
So, what happens? Johnny comes to school hungry, or tired, or just plain overwhelmed and gets in trouble during class. Do we teach Johnny how to deal with the adverse situations that he is facing? Do we try to understand where he is coming from and what he is going through? No. We punish him. We suspend him or give him detention.
Teaching Mindfulness
These punitive practices are ineffective. There is no lesson being taught to the students, so they do not learn from the punishment. Instead, they gain resentment towards the academic institution, which just leads to an even more inefficient learning environment.
This is a huge problem in our education system—but the Holistic Life Foundation, a social services nonprofit based in Baltimore, Md., has a radical solution. The Mindful Moment Room: an oasis of calm that is available during the school day. This room serves as a "cool down" room for students who are upset, or otherwise being disruptive in class. Teachers and administrators can refer students to this room, and students can also refer themselves with permission.


"The program helped me get over what people were saying about me and just… move on."

-10th grade student at Patterson High School, Baltimore, Md.
Each student is assigned a Mindfulness Instructor and they engage in five minutes of targeted discussion with active listening, and 15 minutes of mindfulness practice, selected based on the needs of the student. Most often students are led through a series of breathing exercises, but some scenarios may call for yoga. The focus is on helping the student to de-escalate their emotions.
As the student and instructor discuss their situation, they come up with a plan to help students use mindfulness techniques to address any future issues, or to "reset" emotionally so the student can continue with their day. After 20 minutes in the Mindful Moment Room students are given a pass to return to their class. On occasion students are kept longer depending on the severity of their situation.

"The mindful moment program has had a very positive effect on Patterson High School. Students are conscious of the need and are open to the Mindful Moment practice."


—Vance Benton, Patterson High School Principal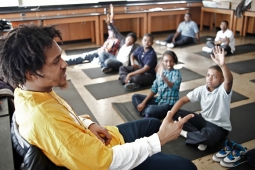 Results of Meditation
Results for this program have been remarkable. For example, Patterson High School in Baltimore, Md. has a very diverse student population—which includes students from a variety of ethnic groups and backgrounds—with over 30 countries represented (and over 20 languages) in their English Speakers of Other Languages (ESOL) Program. Many of the new students are from conflict areas and are in the U.S. under refugee status. Some are undocumented minors.
In the first year of implementing the Mindful Moment Room at Patterson High School, suspensions and verbal and physical altercations all decreased by more than half. At the same time, attendance rates increased by three percent, grade promotions increased by 19 percent and average student GPA increased by a half percent.

"Since we've been doing [the Mindful Moment Room] here at Patterson, it doesn't really take away from what we're trying to do and the students are better able to get their work done."


— Ms. Harris, Patterson High School Teacher
The results are even more impressive in early childhood. The Holistic Life Foundation also runs a Mindful Moment program at Robert W. Coleman Elementary School in Baltimore, Md., and they have not had a suspension since the program was put in place four years ago.
Making a Positive Change
This school year, instead of assuming that the student is just being disrespectful or disruptive, try to actively listen to them and learn what is the root cause of their actions—instead of punishing children. Mindful Room instructor also provide students with techniques they can use to better manage themselves and resolve conflicts in a peaceful manner.
These techniques and practices not only improve focus and concentration, but they increase compassion and empathy while decreasing impulsivity for students and teachers. Instead of beating our students down with punitive practices, let's empower them with mindfulness.
Andres A. Gonzalez is the director of marketing and communications for the Holistic Life Foundation, Inc., a Baltimore-based 501(c)(3) nonprofit organization committed to nurturing the wellness of children and adults in underserved communities.
The FIVE Senses
Want to try mindfulness with your child? Use this exercise to help your child to focus on the present and reduce any anxiety.
What are five things you can see?
What are four things you can feel?
What are three things you can hear?
What are two things you can smell?
What is one thing you can taste?
Source: TherapistAid.com