Memorial Day is a time to honor those who have died serving in the American armed forces. We create so many traditions and expectations around this long holiday weekend that it's easy for its true meaning to get lost. So how do you explain this day and its significance to your kids?
Create these patriotic crafts with your kids, and use this time as an opportunity to explain the origin and purpose of Memorial Day. Help your kids understand the importance of expressing gratitude for all our servicemen and women. Who knows, maybe making crafts will become a tradition you wish to repeat every Memorial Day weekend.

Sparkle Bottles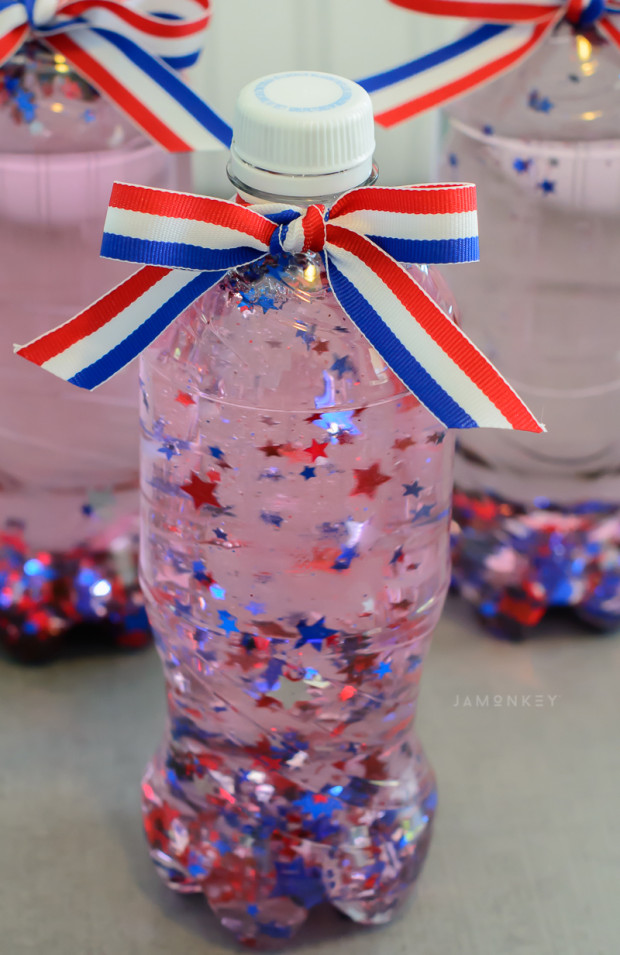 What You'll Need:
Plastic water bottle with the label removed
red, blue and silver star confetti
glycerin
glitter (optional)
water
Directions:
Fill 3/4 of the water bottle with water.
Add as much glitter and confetti as you would like to the bottles.
Fill the rest of the bottle up with glycerin.
Replace lid.
Shake, shake, shake!
Source: JaMonkey.com
Red, White & Blue Tie Dye
What You'll Need:
tie dye kit (this should come with bottles, dye, solution, rubber bands and gloves)
white clothing
plastic bucket
plastic covering
water
paper towels
Directions:
Gather all your materials together, and take outside. Cover the ground or a table with a plastic sheet. Hold the edges of the plastic tight with something heavy (e.g., rocks)

Pull the shirt from the belly and start to twist.
When coiled, start wrapping rubber bands around the shirt (about 6).
Put on your rubber gloves so the color won't bleed. Remember, the dye is permanent.
Apply the dye to all the rubber banded areas. Apply one color at a time, rinsing your gloves between colors. If colors are placed too close together they may start to turn purple.
Let it set: When you're finished adding your dye, cover your shirt up with another piece of plastic. Let set for 24 hours.
Rinse, wash and wear: Rinse each item under cold water until it rinses clear. Once it rinses clear, run it through the washing machine and dry.
Done! Your new shirt is ready to wear!
Source: AlphaMom.com
Stars and Stripes Paper Bag Kites
What You'll Need:
white star stickers
blue paper bags
craft sticks
red and white crepe streamers
yarn or string
Directions:
Start by adding your star stickers all over your bag
Next, cut a small hole on the bottom center of your bag.
Insert one end of your yarn through the hole of the bag, and tie it securely to a popsicle stick on the other end.
Add another popsicle stick to the opposite end of the yarn (the end that is not inside the bag). This will be the handle for the kite that you'll wrap the yarn around
Glue your streamers all around the inside top of the bag.
Go fly your kite! Don't worry if there isn't any wind, it will still be fun!
Source: SheKnows.com
Did You Know?
Originally known as Decoration Day, Memorial Day originated in the years following the Civil War and became an official federal holiday in 1971.
Memorial Day is always observed on the last Monday of May
It is customary on Memorial Day to fly the American flag at half staff until noon, and then raise it to the top of the staff until sunset.
The poppy is a symbol of tribute to veterans-Congress established a National Moment of Remembrance, which asks Americans to pause for one minute at 3 p.m. on Memorial Day in an act of national unity.