Everybody loves cake, right? But bringing one to school to surprise your favorite teacher may not always be ideal. With food allergies and portion control and having all the right utensils on hand to feed a classroom may make it more of a burden. Office Depot has the solution. Why not bring a Supply Cake instead?
With just a few simple steps, you can treat your teacher to a cake that will last for weeks and weeks—because it's made of much-needed school supplies, such as wipes, glue, crayons, pens and more. This gift is practical, adorable and will be appreciated!
Materials
1 Pack Lysol Wipes
2 Binders
8 Packs Colored Pencils (12 ct)
6 Packs Crayons (24 ct)
4 Bottles Glue (4 oz)
2 Spiral Notebooks
5 Folders (2-pocket poly)
48 Pens (TUL)
2 Pencil Pouches
2 Pom Pom Fluffs
2 Pom Pom Pens
2 Donut Pens
3 Varied Décor Tapes
1 Pack Double Sided Tape
1 Rubber Band Ball
Get the materials you need all in one place!
Step 1: Build the Base
Stack the two binders in opposite directions to make an even platform
Tape the two binders together to form a stable base
Step 2: Place Clorox Wipes at Center of Base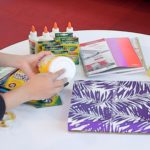 Double-stick tape the bottom of the Lysol Wipes
Wrap the folders & notebooks around the Lysol Wipes
Use rubber bands to secure the folders & notebooks in place
Step 3: Add the Colored Pencils & Pens
Place the colored pencils around the folders & notebooks
Add the pens (black) after the colored pencils
Step 4: Place the Crayons & Glues
Add the crayons around the pens and colored pencils
Add the glue bottles around the bens and colored pencils



Step 5: Decorate the Top of the Cake
Use the pen cup holder and tape TUL colored pens around the holder
Place the cup holder on top of the cake
Place the two pouches inside the cup holder and add decorative pens
Step 6: Décor & Personalization
Use Décor Tape to wrap around the supply cake to hold everything in place
And you're all finished!
Need a more detailed walkthrough? Watch the video on the Office Depot website!
Office Depot has been helping students and schools succeed for more than 30 years. It's more than our job. It's our passion. As a proud National Sponsor of the PTA, our goal is to help make this year—and every year—a success. Connect with Office Depot.