The best way to help kids learn about healthy eating is to make food fun.
That's what PTA parents at Key Biscayne Community School (KBCS) in southern Florida learned. Natalie Estrella and Sara Deschamps wanted to teach kids to make healthy and balanced food choices, but knew the old, "eat your vegetables" speech wasn't going to cut it.
While healthy eating habits keep a child's mind sharp and focused at school, communicating this message to elementary students can be vexing—especially when packed lunches contain cookies, chips and even an occasional contraband soda.
So they volunteered to chair the cafeteria committee and worked with the school and other parents to host a "Healthy Sharks Week." Why sharks? It's the school mascot!
During the week, they distributed a Healthy Sharks Newsletter, spotlighting one nutritious food ingredient, a kid-friendly recipe and smart snack ideas from choosemyplate.gov.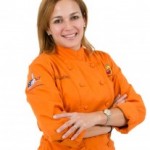 But these moms wanted to take it up a notch. Determined to teach students how to select ingredients to make a balanced, multi-cultural and nutritious meal—in a fun way—they met with Chef Nidia Santiago, a local South Florida chef who specializes in making food and cooking fun for kids through her Food n' Colors program.
Chef Nidia gave an engaging workshop using a concept called "Rainbow Food." The idea is to incorporate as many brightly colored foods into our diets as possible. And in case you were wondering—no, Skittles don't count!
Parent volunteers decorated a rolling cart to resemble a garden and stacked it with plates of "happy" and "sad" food.
The "happy" plates featured properly portioned lunches with brightly colored food like red tomatoes, green grapes and broccoli, orange carrots, black beans and yellow rice and purple radishes, while the "sad" plates were heaped with white rice, white bread and pasta, chips and cookies.
Chef Nidia asked the students if the food on the plates seemed "happy" or "sad." The kids thought this was hilarious, and quickly offered up their own lunches to ask their classmates and Chef Nidia how their food was feeling.
To demonstrate the very important concept of reading food labels, Chef Nidia passed around a microphone and asked the children to read the labels from their packed lunches. This also resulted in lots of belly laughs because hearing a six-year-old try to pronounce "butylated hydroxyanisole" is pretty funny.
"When you see kids excited about important information for their own benefit, then you start to realize how important it is to teach them," said Sara Deschamps. "These are small actions with a big impact in their lives."
At the end of the workshop, each student receiving a Healthy Shark sticker to take home with the goal of initiating a dialogue between parents and their children.
By using simple words and very colorful props, Chef Nidia and PTA parents were able to effectively communicate and promote healthy food choices by encouraging the children to eat brightly colored fruits and vegetables and to encourage them to read and question the labels on their food.
Kate Asturias is a member of the KBCS PTA in Key Biscayne, Fla.