Are you in a school lunch-rut? Sandwich, chips and an apple—all tossed into your kid's lunchbox as they make a mad dash for the school bus. Have no shame—we've all been there.
Luckily, "Luchbox Dad" has come to the rescue! As a blogger, and busy father of three, I make time to transform simple, healthy ingredients into amazingly-creative lunchtime meals. Winnie the Pooh, Star Wars, Frozen—no theme is too crazy for this parent!
You might be thinking, "I don't have the time or skills for this." WRONG! Lunchbox Dad has broken down a little of his genius into five steps that all of us lunchbox-chef-wannabees can follow. I try to keep things healthy, affordable and efficient.
Five Insanely Creative Tips from Lunchbox Dad
Start off simple by using cookie cutters on sandwiches. You probably already have these in your kitchen and using them to cut out shapes only takes a few extra seconds.
When fresh fruit and vegetables aren't available or are too expensive, try dried fruit. It is colorful, healthy, and kids love it.
If you want to create some food shaped like a cartoon character, just do an internet search for coloring pages. They are free and the details are minimal so it is much easier to try to replicate with food than basing the design off the actual cartoon.
Get a good bento-style lunchbox so that you can actually see what you are putting in the lunch. They are a little more expensive at first but can last a long time.
Do meal prep to save yourself time during the busy work week! Prepare fruit and vegetables at the beginning of the week. Cut it up and place in a container. Some fruit like apples can be rubbed with lemon juice to keep from browning.
Cute, creative lunches make the everyday routine a little more fun.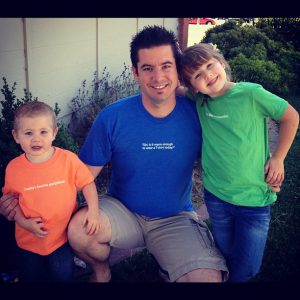 If you'd like to be absolutely wowed and inspired by more of Beau's creations, then head over to lunchboxdad.com.