In this election season, your children are likely well aware that there's an important presidential vote coming up. But they also probably have a lot of questions about the history and details of the election process.
Read one or more of these 10 books during your family reading time to teach your child about the U.S. elections and voting process.
By Kayla Miller, HMH Books for Young Readers
Olive is excited to start sixth grade with a field trip to the big city with her best buds! But when she finds out that a school policy is keeping some kids from going on the trip, she decides to act. She's prepared to do whatever it takes to be heard—even if it means running against Trent and Sawyer, two of her closest friends, in the student council election!
By Kirsten Gillibrand, Maira Kalman (Illustrations)
Bold & Brave introduces children to 10 strong women who have raised their voices on behalf of justice–and inspires them to raise their own voices to build our future. The perfect read for the one-hundredth anniversary of the nineteenth amendment.
By Deborah Diesen, Magdalena Mora (Illustrations), Beach Lane Books
Learn all about the history of voting rights in the United States—from our nation's founding to the present day. This history of voting rights looks back at the activists who answered equality's call, working tirelessly to secure the right for all to vote, and it also looks forward to the future and the work that still needs to be done.
By Kelly DiPucchio, LeUyen Pham (illustrator)
When Grace's teacher reveals that the United States has never had a female president, Grace decides she wants to be the nation's first and immediately jumpstarts her political career by running in her school's mock election!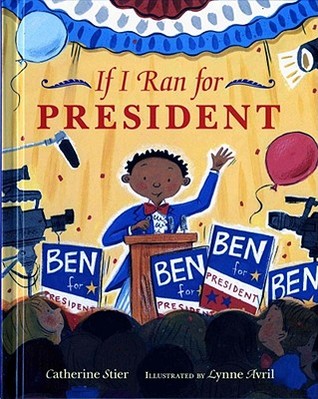 By Catherine Stier, Albert Whitman & Company
A multicultural cast of children imagines what it would be like to run for president. The entertaining yet informative text is a good conversation starter for discussions on the election process. A note about this process accompanies the story.
By Katherine Ross, Aristides Ruiz (Illustrator), Joe Mathieu (Illustrator), Random House Books for Young Readers
In simple rhyme, the Cat in the Hat introduces early readers to the concept and practice of voting—with a focus on the American presidency! Learn the basic principles of democracy, how political parties are formed, why Election Day is held in early November, and much, much more!
By André Rodrigues, Larissa Ribeiro, Paula Desgualdo, Pedro Markun, Nancy Paulsen Books
In this funny introduction to how elections work, the animals decide they are tired of their king and that it is time to vote for a president. The non-partisan story features lively illustrations, a helpful glossary, and colorful characters who have an infectious enthusiasm for the election process.
By Kate Farrell, Caitlin Kuhwald, Henry Holt and Co. (BYR)
A is for active participation.
B is for building a more equal nation.
C is for citizens' rights and our duty.
D is for difference, our strength and our beauty.
This is an ABC book that introduces families to concepts like social justice and civil rights and reminds readers that every vote counts!
By Margaret McNamara, Micah Player (Illustrations), Schwartz & Wade Books
Every two years, on the first Tuesday of November, Stanton Elementary School closes so that it can transform itself into a polling station. While the students might be too young to vote themselves, that doesn't mean they can't encourage their parents, friends, and family to vote! After all, voting is how this country sees change—and by voting today, we can inspire tomorrow's voters to change the future.
By Ruby Shamir, Philomel Books
Did you know that Election Day is on Tuesday because that was the best day for farmers to vote? From ballots to bonfires, from suffrage to stumping, this kid-friendly picture book filled with fun facts and historical trivia shows why voting is so important and why America gets to call its government a body of, by and for the people.
Kisha DeSandies Lester is the senior editorial and digital manager at National PTA.