Did you know that most children go through that dreaded fussy eating phase? To be precise, 89% of children go through at least one lengthy stage of fussy eating, so you're not the only one being kept awake at night worrying about your child's picky palate! It's actually the way that we deal with the situation that impacts our children's eating habits. Only giving them the foods they enjoy will simply escalate their fussiness and deprive them of the essential nutrients they need to grow and develop.
So, here are a few of my top tips to help tackle fussy eating:
1. Hide your frustrations
The golden rule is to hide any frustrations, and instead give them lots of praise when they eat well or try something new (don't over-egg it though). Yes, this may mean that you end up ignoring some of their bad behavior and instead focus your attention on their good behavior, but
by doing this, mealtimes are likely to be less stressful and more enjoyable. Your kids will soon find there's not much point making a fuss if you don't react.
I always say that a hungry child is a less picky child, so sometimes it's best to let them go and play rather than turning mealtimes into a battle of wills. I promise that they will soon be back when their tummies start grumbling!
2. Turn proven favorites into other meals too
Any time you have success with one ingredient, replicate it somewhere else. For example, my son loved apple muffins, so I applied this sweetness to chicken to make chicken and apple balls and he loved them. Packed with protein and iron, this has become one of my most popular recipes.
3. Try strategic reward schemes A simple sticker chart in the kitchen
A simple sticker chart in the kitchen can work well with older children. Task your little one with making their own— perhaps decorating it with pictures of their favorite characters. Give them a sticker for eating new foods. When they have collected a few stickers, reward them with a prize.
4. Try making your own versions of fast food
We've all been there—that desperate stop at a fast-food restaurant that your child soon insists is the only thing they'll eat. But you can very easily recreate some healthy versions of these fast food fail-safes. For example, use good quality lean meat for burgers or make homemade fish fingers. Simply dip strips of fish in seasoned our, beaten egg and crushed cornflakes for a delicious crispy coating. Why not serve with baked sweet potato wedges for an added nutrition hit. And for dessert it's easy to make fresh fruit ice pops from fruit juice and pureed fruits.
5. Cook with them!
It's amazing how being involved in the planning and preparation of a meal can stimulate a child's appetite. Get your kids to help you in the kitchen cooking-up a simple savory muffin or some tasty banana bread to pop in their lunchbox!
Crispy Baked Cod with Sweet Potato Chips
Fish and chips can still very much be on the menu if you're trying to put more healthy food on the family table—simply make a few tweaks so it's less "naughty" and more nutritious.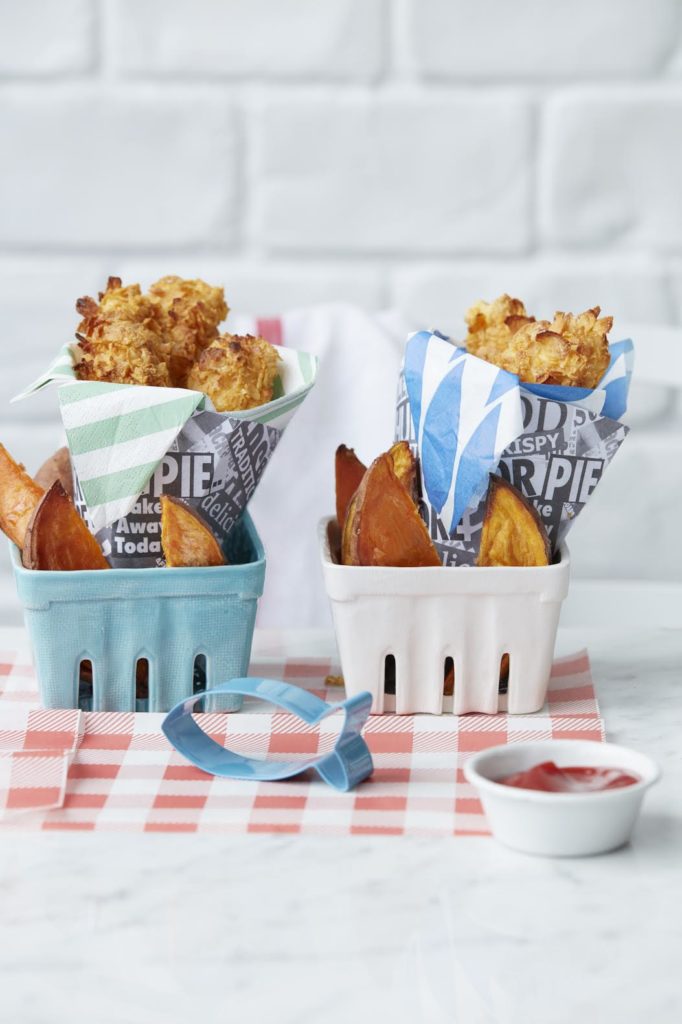 Prep: 15 minutes Cook: 30 minutes Makes: 2 portions
Ingredients:
Baked Cod Strips
4 tbsp plain flour
1 egg, beaten
3 tbsp cornflakes, crushed
2 skinless cod filets
Salt and Pepper
Sweet Potato Chips
3 sweet potatoes, cut into wedges
2 tbsp sunflower oil
Method:
Preheat the oven to 400°F and line two baking sheets with baking parchment.
Put the our in a bowl, the beaten egg in another bowl and the crushed cornflakes in a third bowl.
Season the cod with a little salt and pepper and coat each fillet in the our, then the egg, then the crushed cornflakes. Arrange the coated fillets on one of the lined baking sheets.
Toss the sweet potato wedges with the oil, season lightly with salt and pepper and spread them out on the second lined baking sheet.
Put the sweet potato chips in the oven and bake for 30 minutes, turning the chips halfway through the cooking time. When you turn the chips, add the sh to the oven and bake for 15 minutes until golden and cooked through.
Remove the chips and baked cod from the oven and serve straight away, with the cod wrapped in paper cones if you wish.
With a career spanning 25 years, London-born mother of three, Annabel Karmel, has pioneered the way families all over the world feed their babies and children.